Project 6
Dynamics of events in HIV-1 replication
The events occurring between entry of the viral capsid into a host cell and arrival of the viral genetic information in the cell nucleus represent the most enigmatic part of the HIV-1 replication cycle. Fusion of the viral envelope with the cell membrane releases the capsid into the cytoplasm, where the RNA genome contained in the capsid is converted into double stranded DNA by the viral reverse transcriptase. Upon transport of this DNA copy into the nucleus it is inserted into the host cell genome by the viral integrase. While textbooks depict disassembly of the capsid (uncoating) as initial step of this sequence, many studies indicate that processes occurring in the 'post entry' phase are complex and intertwined, with a capsid-like structure hiding the viral genome from host cell defense mechanisms and possibly recruiting cellular factors that promote transport to and into the nucleus. Therefore, tight coordination of events in time and space is critical for HIV replication.
Our project is aimed at elucidating the dynamics and pathways of HIV post-entry events, the fate and functional role of the viral capsid and the influence of specific host cell proteins on the course of events. Traditional ensemble measurements are not well suited to capture dynamics of complex, fast and transient interactions. Therefore, we want to apply microscopic methods to follow individual viruses through the initial steps of infection. For this, we establish and employ minimal invasive fluorescent labeling strategies in order to detect important components of HIV replication complexes in live cells, in collaboration with the Lemke (P7) and Schultz (Z3) group: We also work towards generating fully replication competent fluorescent HIV variants that allow us to follow their spread from cell to cell in complex 3D cellular environments. These variants will also be applied in projects of the Kräusslich (P5) and Fackler (P8) groups.
---
Die entscheidenden Ereignisse zwischen dem Einritt des Humanen Immundefizienz-Virus in eine Wirtszelle und der Ankunft der genetischen Information des Virus im Zellkern sind bisher nur wenig verstanden. Durch Fusion der Virushülle mit der Zellmembran gelangt das Viruskapsid ins Zytoplasma. Dort wird das im Kapsid verpackte RNA Genom in doppelsträngige DNA umgeschrieben ('Reverse Transkription'). Diese wird in den Zellkern transportiert und in das Erbgut der Wirtszelle integriert. In Lehrbüchern wird der Zerfall der Kapsidhülle in der Zelle ('Uncoating') als erster Schritt dieser Abfolge dargestellt; viele Daten belegen jedoch, dass die Ereignisse in der 'post entry' Phase von HIV nicht nacheinander ablaufen, sondern in komplexer Wechselwirkung miteinander stehen. Das Kapsid – oder eine Kapsid-ähnliche Hülle – spielt dabei offenbar eine wichtige Rolle: es schützt die neu entstehende virale DNA vor zellulären Abwehrmechanismen und rekrutiert Wirtsfaktoren, die für den Transport der DNA in den Zellkern benötigt werden. Eine genaue Kontrolle der Dynamik von uncoating, reverser Transkription und Kernimport in Raum und Zeit ist daher entscheidend für die Virusreplikation.
In unserem Projekt untersuchen wir die Dynamik der Ereignisse in der HIVpost-entry Phase, die Rolle des Viruskapsids und den Einfluss bestimmter zellulärer Faktoren auf diese Ereignisse. Mit biochemischen Verfahren gelingt es nicht, die Dynamik schneller, transienter, nicht synchronisierter Abläufe zu erfassen. Daher wenden wir moderne mikroskopische Methoden an, die es erlauben, einzelne Viren auf ihrem Weg durch die Zelle zu verfolgen. Hierfür etablieren wir in Zusammenarbeit mit den Arbeitsgruppen Lemke und Schultz minimal invasive Verfahren zur Fluoreszenzmarkierung, mit denen wir wichtige Bestandteile der HIV Eintrittskomplexe sichtbar machen können. Darüber hinaus entwickeln wir voll replikationskompetente fluoreszenzmarkierte HIV Varianten, die es uns erlauben, die Ausbreitung des Erregers in komplexen Zellsystemen zu verfolgen. Diese Varianten werden auch in den Projekten der Gruppen Kräusslich und Fackler zum Einsatz kommen.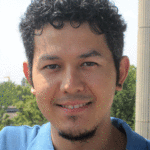 Volkan Sakin, PostDoc