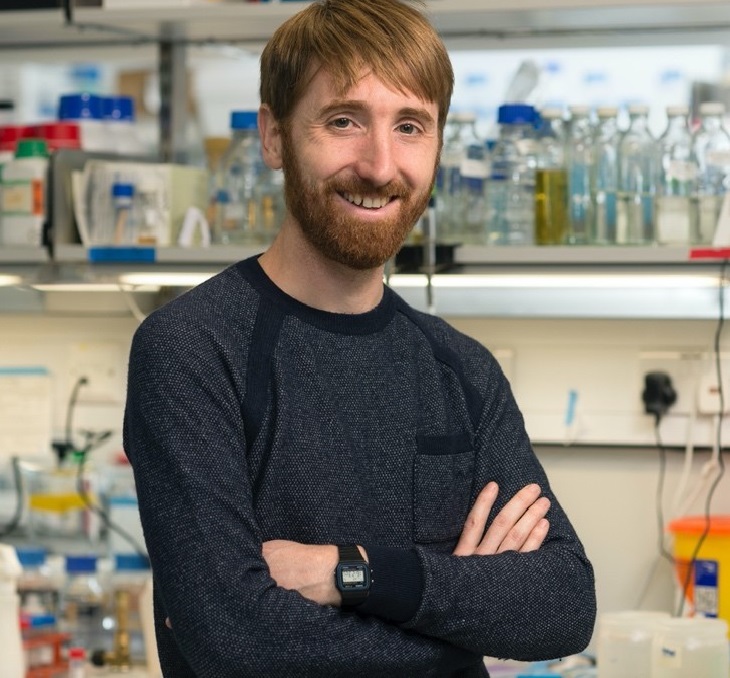 Dr. John A.G. Briggs
Department of Cell and Virus Structure
Max-Planck-Institute of Biochemistry
Am Klopferspitz 18
82152 Martinsried, Germany

phone: +49 89 8578 2592
FIELDS OF INTEREST
Enveloped virus structure, assembly and budding, cellular vesicle budding mechanisms, cryo-electron tomography methods,
correlative light and electron microscopy methods.
AWARDS & HONORS
2018      Blavatnik Awards UK Finalist
2015      Ernst-Ruska prize for outstanding achievements in electron microscopy
2015      Elected to EMBO Membership
2015      Royal Microscopical Society Medal for Life Sciences
2014      Yale University Sears Lecture
2012      Chica and Heinz Schaller Research Award
| | |
| --- | --- |
| 2021-present | Director, Dept. Cell and Virus Structure, MPI of Biochemistry, Martinsried |
| 2017-2021 | Programme Leader, Medical Research Council Laboratory of Molecular Biology, Cambridge, U.K. |
| 2013-2016 | Senior Scientist, European Molecular Biology Laboratory |
| 2006-2016 | Group Leader – Structural and Computational Biology Unit, European Molecular Biology Laboratory, Heidelberg, Germany |
| 2005-2006 | Postdoctoral Research Fellow, Ludwig Maximilians University Munich, Germany |
| 2004 | Postdoctoral Scientist, Oxford University, U.K. |
| 2000 – 2004 | D.Phil. in Structural Biology, Oxford University, U.K |
| 1996 – 2000 | Bachelor (B.A.) and Master (M.Sci.) in Natural Sciences (Biochemistry) Cambridge University |
Qu K, Ke Z, Zila V, Anders-Össwein M, Glass B, Mücksch F, Müller R, Schultz C, Müller B, Kräusslich HG, Briggs JAG. 2021. Maturation of the matrix and viral membrane of HIV-1. Science 373(6555): 700-704
Peukes, J., Xiong, X., Erlendsson, S., Qu, K., Wan, W., Calder, L.J., Schraidt, O., Kummer, S., Freund, S.M.V., Kräusslich, H.G., Briggs, J.A.G. (2020). The native structure of the assembled matrix protein 1 of influenza A virus. Nature 587(7834): 495–498.
Ke, Z., Oton, J., Qu, K., Cortese, M., Zila, V., McKeane, L., Nakane, T., Zivanov, J., Neufeldt, C.J., Cerikan, B., Lu, J.M., Peukes, J., Xiong, X., Kräusslich, H.G., Scheres, S.H.W., Bartenschlager, R., Briggs, J.A.G. (2020). Structures and distributions of SARS-CoV-2 spike proteins on intact virions. Nature 588(7838): 498–502.
Kovtun, O., Leneva, N., Bykov, Y.S., Ariotti, N., Teasdale, R.D., Schaffer, M., Engel, B.D., *Owen, D.J., *Briggs, J.A.G., *Collins, B.M. (2018). Structure of the membrane-assembled retromer coat determined by cryo-electron tomography. Nature 561(7724): 561-564.
Wan, W., Kolesnikova, L., Clarke, M., Koehler, A., Noda, T., Becker, S., Briggs, J.A.G. (2017). Structure and assembly of the Ebola virus nucleocapsid. Nature 551: 394-397
Mattei, S., Glass, B., Hagen, W.J., Kräusslich, H.G. and Briggs, J.A. (2016). The structure and flexibility of conical HIV-1 capsids determined within intact virions. Science 6318: 1434-1437
Schur, F.K., Obr, M., Hagen, W.J., Wan, W., Jakobi, A.J., Kirkpatrick, J.M., Sachse, C., Kräusslich, H.G. and Briggs, J.A. (2016). An atomic model of HIV-1 capsid-SP1 reveals structures regulating assembly and maturation. Science 353(6298): 506-508
Dodonova, S.O., Diestelkoetter-Bachert, P., von Appen, A., Hagen, W.J., Beck, R., Beck, M., Wieland, F. and Briggs, J.A. (2015). A structure of the COPI coat and the role of coat proteins in membrane vesicle assembly. Science 349(6244): 195-198
Avinoam, O., Schorb, M., Beese, C.J., *Briggs, J.A. and *Kaksonen, M. (2015). Endocytic sites mature by continuous bending and remodeling of the clathrin coat. Science 348(6241): 1369-1372
Schur, F.K., Hagen, W.J., Rumlová, M., Ruml, T., Müller, B., Kräusslich, H.G. and Briggs, J.A. (2015). Structure of the immature HIV-1 capsid in intact virus particles at 8.8 Å resolution. Nature 517(7535): 505-508
Bharat, T.A., Davey, N.E., Ulbrich, P., Riches, J.D., de Marco, A., Rumlova, M., Sachse, C., Ruml, T., Briggs, J.A. (2012). Structure of the immature retroviral capsid at 8 Å resolution by cryo-electron microscopy. Nature 487(7407): 385-389
Click here for further publications