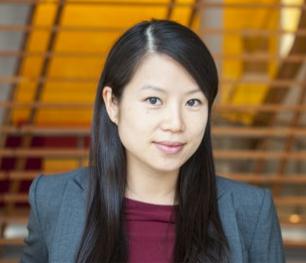 Dr. Viet Loan Dao Thi
Department of Infectious Diseases, Virology
Heidelberg University Schaller Research Group
69120 Heidelberg, Germany
Phone: +49 6221-56 1328
Fax:   +49 6221-56 5003
Email: vietloan.daothi@med.uni-heidelberg.de
FIELDS OF INTEREST
Molecular virology, hepatotropic viruses, hepatitis E virus, stem cell technology, virus-host interaction, antiviral therapy and therapy resistance, protein trafficking, epithelial polarization, innate immunity, personalized medicine, liver disease
CURRENTLY FUNDED PROJECTS
Chica and Heinz Schaller Foundation group leader (2018-2023)
AWARDS & HONORS
| | |
| --- | --- |
| 2017-2018 | Helmsley Postdoctoral fellowship at the Rockefeller University |
| 2016 | Hepatology Prize from the Swiss Association for the Study of the Liver |
| 2015-2017 | Postdoctoral fellowship from the German Research Foundation |
| 2015-2016 | Postdoctoral fellowship from the German Academic Exchange Service (declined) |
| 2014 | International Exchange Award from the Foundation of the University of Lausanne, Switzerland |
| 2007-2010 | PhD fellowship from the Cluster Infectiologie de la Région Rhône-Alpes, France |
| | |
| --- | --- |
| 04/2018 -present | Chica and Heinz Schaller research group leader at Heidelberg University |
| 2015 – 2018 | Postdoctoral fellow, Laboratory of Virology and Infectious Disease, The Rockefeller University, New York, USA |
| 2012 – 2014 | Postdoctoral associate, Institute of Microbiology of the University Hospital Centre Vaudois and of the University of Lausanne, Lausanne, Switzerland |
(* Equal contribution, † corresponding authorship)
Dao Thi VL†, Herbst K, Boerner K, Meurer M, Kremer PML, Kirrmaier D, Freistaedter A, Papagiannidis D, Galmozzi C, Stanifer ML, Boulant S, Klein S, Chlanda P, Khalid D, Barre-to Mirranda I, Schnitzler P, Kräusslich HG, Knop M, and Anders S (2020). A colorimetric RT-LAMP assay and LAMP-sequencing for detecting SARS-CoV-2 RNA in clinical sam-ples. Sci Transl Med. 12(556):eabc7075.
Dao Thi VL†, Wu X, Belote RL, Andreo U, Takacs CN, Fernandez JP, Vale-Silva LA, Decker CC, Fu RM, Qu B, Uryu K, Molina H, Saeed M, Steinmann E, Urban S, Singarja RR, Schneider WM, Simon SM, and Rice CM (2020). Stem cell-derived polarized hepato-cytes. Nature Commun. 11(1):1677.
Fu RM, Decker CC, and Dao Thi VL† (2019). Cell Culture Models for Hepatitis E Virus. Viruses 11(7):608.
Gouttenoire J, Pollán A, Abrami L, Oechslin N, Mauron J, Matter M, Oppliger J, Szkolnicka D, Dao Thi VL, van der Goot FG, and Moradpour D (2018). Palmitoylation mediates mem-brane association of hepatitis E virus ORF3 protein and is required for infectious particle secretion. PLoS Pathog.10;14(12):e1007471
Chung H, Calis JJA, Wu X, Sun T, Yu Y, Sarbanes SL, Dao Thi VL, Shilvock AR, Hoff-mann HH, Rosenberg BR, and Rice CM (2018). Human ADAR1 Prevents Endogenous RNA from Triggering Translational Shutdown. Cell. 172(4):811-824
Wu X*, Dao Thi VL*, Liu P, Takacs CN, Xiang K, Andrus L, Gouttenoire J, Moradpour D, and Rice CM (2018). Pan-Genotype Hepatitis E Virus Replication in Stem Cell-Derived Hepatocellular Systems. Gastroenterology. 154(3):663-647
Wu X, Dao Thi VL, Huang Y, Billerbeck E, Saha D, Hoffmann HH, Wang Y, Vale Silva LA, Sarbanes S, Sun T, Andrus L, Quirk C, MacDonald MR, Schneider WM, An X, Rosenberg BR, and Rice CM (2018). Intrinsic Immunity Shapes Viral Resistance of Stem Cells. Cell. 172(3):423-438
Takacs CN, Andreo U, Dao Thi VL, Wu X, Gleason CE, Itano MS, Spitz G, Belote RL, Flatley BR, Scull MA, Rice CM, and Simon SM (2017). Differential regulation of lipoprotein and hepatitis C virus secretion by Rab1b. Cell Rep. 21(2):431-441.
Dao Thi VL, Debing Y, Wu X, Rice CM, Neyts J, Moradpour D*, and Gouttenoire J* (2016). Sofosbuvir inhibits Hepatitis E virus replication in vitro and results in an additive ef-fect when combined with ribavirin. Gastroenterology. 150:82-85
Dao Thi VL, Granier C, Zeisel MB, Guérin M, Mancip J, Granio O, Penin F, Lavillette D, Bartenschlager R, Baumert TF, Cosset FL, and Dreux M (2012). Characterization of hepatitis C virus particle subpopulations reveals multiple usage of the scavenger receptor BI for en-try steps. J Biol Chem. 287:31242-57
Click here for further publications.