AKTION "I'M A SCIENTIST – GET ME OUT OF HERE" – THEMENBEREICH INFEKTIONEN  (vom 15. bis 26. März 2021)
Eine Initiative für naturwissenschaftliche Bildung und Teilhabe (imascientist.de) (I'M A SCIENTIST HOMEPAGE)
HERZLICHEN GLÜCKWUNSCH AN UNSERE DOKTORANDIN MARIANNE PAPAGRIGORAKES! (Projekt 3, AG Lanzer) / CONGRATULATIONS TO OUR PHD STUDENT MARIANNE! (project 3, Lanzer group)
I'm a Scientist, Get me out of here! (Ich bin Wissenschaftler*in, holt mich hier raus!) ist ein Online-Angebot der Wissenschaft im Dialog gGmbH, das Schüler*innen den direkten Austausch mit Wissenschaftler*innen ermöglicht.
In textbasierten Live-Chats treten Schüler*innen in den Dialog mit Wissenschaftler*innen, lernen dabei deren Arbeitsalltag kennen und erfahren, zu welchen Themen sie aktuell forschen. Dabei stimmen die Schüler*innen regelmäßig über ihre Lieblingswissenschaftler*innen ab und küren so am Ende eine*n Gewinner*in.
In der Runde zum Themenbereich "Infektionen" (vom 15. bis 26. März 2021) hat unsere Doktorandin Marianne Papagrigorakes (Projekt 3, AG Lanzer) von den Schüler*innen die meisten Stimmen und damit ein Preisgeld in Höhe von 500 € erhalten. Dieses darf für ein Projekt im Bereich der Wissenschaftskommunikation eingesetzt werden und wir sind bereits sehr darauf gespannt, was Marianne damit umsetzen wird.
I'm a Scientist, Get me out of here! is an online service from Wissenschaft im Dialog gGmbH that enables pupils to engage in direct exchange with scientists.
In text-based live chats, pupils enter into a dialog with scientists, get to know their everyday work and learn about the topics the scientists are currently researching. The pupils regularly vote on their favorite scientists and choose a winner at the end.
In the round on the topic of "Infections" (from 15 to 26 March 2021), our PhD student Marianne Papagrigorakes (Project 3, Lanzer group) received the most votes from the pupils and thus prize money in the amount of € 500. This money can be used for a project in the field of science communication and we are already very excited about what Marianne will realize with it.
.
⟩ Virtueller Vortrag am 27. Januar 2021 beim SciDay der Experimenta in Heilbronn:
"
Malaria: Tödliche Parasiten, spannende Forschung und keine Impfung"
auf das Bild klicken um das Plakat zu sehen:
Zeitungsartikel aus "Heilbronner Stimme"
vom 25.01.2021: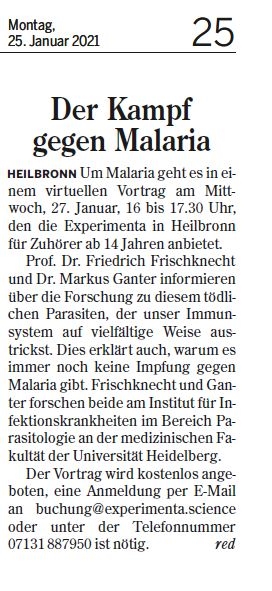 .
⟩  Interview with Barbara Müller (TP 6) on the topic of women in Virology
Prof. Dr. B. Müller (TP 6) wurde im Mai 2020 von der "Landesinitiative Frauen in MINT Berufen" Baden-Württemberg interviewt.
Hier ist der Link zum Interview.
Prof. Dr. B. Müller (TP 6) was interviewed in May 2020 by the Baden Württemberg State Initiative "Women in MINT Professions".
Here is the link to the interview (note: the interview is available in german language only).
⟩ Symposium zum Welt-Aids-Tag am 2. Dezember 2019
Anlässlich des Welt-AIDS-Tages fand in Heidelberg am 2. Dezember 2019 im "Center for Integrative Infectious Disease Research (CIID)" ein von Wissenschaftlerinnen des CIID in Zusammenarbeit mit der AIDS-Hilfe Heidelberg organisiertes Symposium statt.
Über 70 SchülerInnen und Studierende füllten den Seminarraum des CIID. Nach Kurzvorträgen zu den Themen HIV-Forschung, Therapie und AIDS in Afrika konnten sich die Besucher am Infostand der AIDS-Hilfe informieren und mit Betroffenen diskutieren.
Im Anschluss wurden von Mitarbeitern der Virologie, des Instituts for Global Health und der AIDS-Hilfe verschiedene Workshops angeboten. Auch Mitglieder des SFB1129 waren daran beteiligt.
Danke an Dr. Annica Flemming für die Organisation.
⟩ "European Researchers Night 2019" on September 27th, 2019
Members of  the SFB1129 presented themselves at the "Nacht der Forschung" on September 27th, 2019 by events in the entrance hall of the CIID building and in the foyer of the Medical Clinic.
Many interested visitors enjoyed the guided tour through the advanced microscopy platform IDIP (Infectious Diseases Imaging Platform), hands on microscopy demonstrations, quizzes and discussions with scientists.
We are looking forward to the European Researchers Night 2020.
Pictures: Universitätsklinikum Heidelberg