2023
⟩ Veranstaltung zum Welt-AIDS-Tag am 01.12.2023
Ort: CIID, Im Neuenheimer Feld 344, 69120 Heidelberg
Datum: Freitag, 01. Dezember 2023 von 15.30 – 18.30 Uhr
Die Veranstaltung richtet sich an ein allgemeines Publikum und ist offen für alle. Teile des Programms werden in deutscher Sprache abgehalten, um die Teilnahme der Öffentlichkeit zu fördern.
2023
⟩ Two project leaders with info booth at the BUGA in Mannheim
On October 1, two of our SFB group leaders, namely Freddy Frischknecht (project 1 and 22) and Markus Ganter (project 18), inspired the audience at the BUGA (Bundesgartenschau) in Mannheim with a talk on the question "Malaria in Mannheim – impossible?" They had an info booth on malaria with among other things literature (overview article, malaria comic, This is Ann) and some mosquitoes (safely kept in a cage) and they very much enjoyed sharing their knowledge with young and old.
2023
.
⟩
 June 23rd, 2023: Ingham and Mücksch labs
organize an event dedicated to "World Malaria Day"
"Time to deliver zero malaria: invest, innovate, implement", WHO 2023
A SFB1129-sponsored event dedicated to World Malaria Day will take place Friday, June 23rd at 4:30 pm in the Seminar Room (ground floor)
of CIID, INF 344, Heidelberg.
The event is organized by members of the Ingham and Mücksch labs
(SFB projects 23 and 24) and will feature a short film of the Malakit Project in French Guiana which provides an intervention for the malaria endemic in illegal gold mining sites.
This will be followed by a talk and discussion with involved researchers Yann Lambert and Muriel Galindo.
The event is open to everyone and we are looking forward to seeing you there.
2023
.
⟩
Mitglieder des SFB1129 aktiv in der Vortragsreihe "SciencePub Heidelberg"
25. April 2023: Vortrag von Dr. Viet Loan Dao Thi und Dr. Marco Binder
An der Vortragsreihe "SciencePub Heidelberg", veranstaltet vom Deutschen Jungforschernetzwerk – juFORUM e.V., beteiligen sich auch in diesem Jahr wieder Mitglieder des SFB1129. Dr. Viet Loan Dao Thi, Projektleiterin von Teilprojekt 17, hält zusammen mit Dr. Marco Binder einen Vortrag zu
"Viral Hepatitis and Beyond – Basic Research and Cure"
Ort: Café Leitstelle, Emil-Maier-Straße 16, 69115 Heidelberg
Zeit: 25. April 2023, 19 Uhr (freier Eintritt)
Abstract: You likely know about the ABC of hepatitis viruses– or so you think. But have you ever heard of hepatitis E or G? And that you can get hepatitis by drinking water or eating undercooked pork? We will discuss the many ways of how you can be exposed to the alphabet of hepatitis viruses and the wide spectrum of diseases they cause, all of which are called "hepatitis".
We will then have a closer look at the molecular level of infection. The very first hours of an infection often are a literal race for victory. We will present examples of the many strategies viruses have developed to outsmart the antiviral defense program built right into every single cell of our body. Ultimately, we want to lay out how researchers aim to apply their findings to therapeutically redirect the immune system such that it may even gain control over chronic infections again.
Weitere Informationen zur Vortragsreihe: ↪ juFORUM: SciencePub Heidelberg
2023
.
⟩
Mitglieder des SFB1129 als Dozenten im Wahlfachtrack "Interdisziplinäre Infektiologie"
Ab dem Sommersemster 2023 bietet die Medizinische Fakultät Heidelberg im Medizin-Studium das Wahlfach "Interdisziplinäre Infektiologie" an.
Verschiedene Projektleiter des SFB1129 sind als Dozenten beteiligt.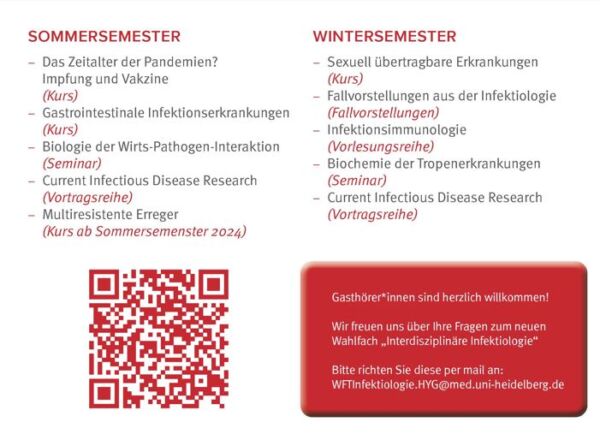 2022
.
⟩
Mitglieder des SFB1129 aktiv in der Vortragsreihe "SciencePub Heidelberg"
20. Dezember 2022: Vortrag von Prof. Dr. Friedrich Frischknecht und Dr. Markus Ganter
Malaria begleitet uns seitdem wir zu Menschen geworden sind und dennoch haben sich Parasit und Wirt nicht aneinander gewöhnt.
Aktuell gerät diese Krankheit mehr und mehr ausser Kontrolle und gleichzeitig hilft uns der Erreger fundamentale Fragen moderner Biologie
zu beantworten.
Unser Vortrag "Malaria: alte Krankheit, neue Probleme"? wird dieses Spannungsfeld beleuchten und wir werden einen Blick in die Zukunft von
Mensch und Malaria wagen.
Malaria has accompanied us since we became humans and yet parasite and host have not become accustomed to each other. Currently this disease is getting more and more out of control and at the same time the pathogen helps us to answer fundamental questions of modern biology.
Our lecture "Malaria: old disease, new problems"? will shed light on these opposing aspects and we will look into the future of humans and malaria.
Oktober 2022: Prof. Frischknecht besucht sein ehemaliges Gymnasium
Anläßlich des 50jährigen Jubiläums des Graf-Eberhard-Gymnasiums in Bad Urach im Oktober 2022, besuchte Prof. Friedrich Frischknecht, Projektleiter im SFB-Projekt 1 und 22, seine ehemalige Schule.
Bei einer Veranstaltung des Fördervereins berichtete er über seinen beruflichen Werdegang und seine wissenschaftliche Tätigkeit als Malariaforscher am Universitätsklinikum Heidelberg. In einem Podiumsgespräch im Anschluß hatte die interessierte Zuhöherschaft die Möglichkeit Fragen an Prof. Frischknecht zu stellen.
2021
.

⟩ Aktion "I'm a scientist – get me out of here" – Themenbereich INFEKTIONEN  (vom 15. bis 26. März 2021). Eine Initiative für naturwissenschaftliche Bildung und Teilhabe (imascientist.de) ↪ (I'm a scientist Homepage)
I'm a Scientist, Get me out of here! (Ich bin Wissenschaftler*in, holt mich hier raus!) ist ein Online-Angebot der Wissenschaft im Dialog gGmbH, das Schüler*innen den direkten Austausch mit Wissenschaftler*innen ermöglicht.
In textbasierten Live-Chats treten Schüler*innen in den Dialog mit Wissenschaftler*innen, lernen dabei deren Arbeitsalltag kennen und erfahren, zu welchen Themen sie aktuell forschen. Dabei stimmen die Schüler*innen regelmäßig über ihre Lieblingswissenschaftler*innen ab und küren so am Ende eine*n Gewinner*in.
In der Runde zum Themenbereich "Infektionen" (vom 15. bis 26. März 2021) hat unsere Doktorandin Marianne Papagrigorakes (Projekt 3, AG Lanzer) von den Schüler*innen die meisten Stimmen und damit ein Preisgeld in Höhe von 500 € erhalten. Dieses darf für ein Projekt im Bereich der Wissenschaftskommunikation eingesetzt werden und wir sind bereits sehr darauf gespannt, was Marianne damit umsetzen wird.
Herzlichen Glückwunsch an unsere Doktorandin MARIANNE PAPAGRIGORAKES! (Projekt 3, AG Lanzer) / CONGRATULATIONS TO OUR PHD STUDENT MARIANNE! (project 3, Lanzer group)
2021
.
⟩ Virtueller Vortrag am 27. Januar 2021 beim SciDay der Experimenta in Heilbronn: "
Malaria: Tödliche Parasiten, spannende Forschung und keine Impfung"
auf das Bild klicken um das Plakat zu sehen:
Zeitungsartikel aus "Heilbronner Stimme"
vom 25.01.2021: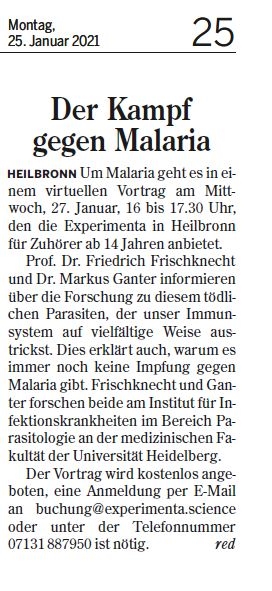 2020
.
⟩  Interview with Barbara Müller (TP 6) on the topic of women in Virology
Prof. Dr. B. Müller (TP 6) wurde im Mai 2020 von der "Landesinitiative Frauen in MINT Berufen" Baden-Württemberg interviewt.
Hier ist der Link zum Interview.
Prof. Dr. B. Müller (TP 6) was interviewed in May 2020 by the Baden Württemberg State Initiative "Women in MINT Professions".
Here is the link to the interview (note: the interview is available in german language only).
2019
⟩ Symposium zum Welt-Aids-Tag am 2. Dezember 2019
Anlässlich des Welt-AIDS-Tages fand in Heidelberg am 2. Dezember 2019 im "Center for Integrative Infectious Disease Research (CIID)" ein von Wissenschaftlerinnen des CIID in Zusammenarbeit mit der AIDS-Hilfe Heidelberg organisiertes Symposium statt.
Über 70 SchülerInnen und Studierende füllten den Seminarraum des CIID. Nach Kurzvorträgen zu den Themen HIV-Forschung, Therapie und AIDS in Afrika konnten sich die Besucher am Infostand der AIDS-Hilfe informieren und mit Betroffenen diskutieren.
Im Anschluss wurden von Mitarbeitern der Virologie, des Instituts for Global Health und der AIDS-Hilfe verschiedene Workshops angeboten. Auch Mitglieder des SFB1129 waren daran beteiligt.
Danke an Dr. Annica Flemming für die Organisation.
2019
⟩ "European Researchers Night 2019" on September 27th, 2019
Members of  the SFB1129 presented themselves at the "Nacht der Forschung" on September 27th, 2019 by events in the entrance hall of the CIID building and in the foyer of the Medical Clinic.
Many interested visitors enjoyed the guided tour through the advanced microscopy platform IDIP (Infectious Diseases Imaging Platform), hands on microscopy demonstrations, quizzes and discussions with scientists.
We are looking forward to the European Researchers Night 2020.
Pictures: Universitätsklinikum Heidelberg